Allan and Joe offer you a very warm welcome to
Feathers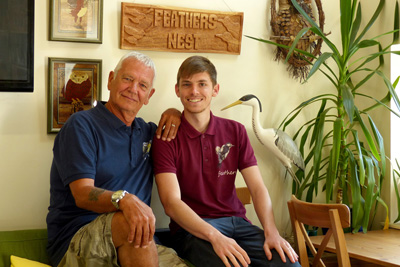 Allan, the tall one on the left with the silver wig and false teeth, who is holding his large tummy in just for the photograph, has been into birds since he was a young man. His knowledge and ability to talk to the point of considering suicide is now established throughout the English speaking world.
Joe, on the other hand, is nothing less than a young gentleman. Very knowledgeable, extremely polite, slightly short but sickly efficient. This combination enables them to recommend and supply all you will need to attract a vast number of birds into your garden.
A visit to Feathers is like meeting friends, to simply chat and exchange views about our wildlife. Joe is always happy to listen and Allan is for ever ready to talk, our care and concern for our wildlife shows in the ambiance and relaxing atmosphere created by the charm and politeness of the good looking Joe and the ever so slightly grumpy attitude of old Allan, so together we will be able to help all the wildlife in our gardens prosper.
Our aim is to offer products that we consider the best for the birds at the most competitive prices - if you find any of our products dearer elsewhere we will gladly charge the extra!
So pop in to see us and understand why the birds in East Sussex, West Sussex, Holland, France and Kent think that Allan and Joe are the best things since Sunflower Hearts.
Whether you're an experienced garden bird lover or you have just caught the bug - Feathers is the place to come.
Feathers

- Everything for your Garden Birds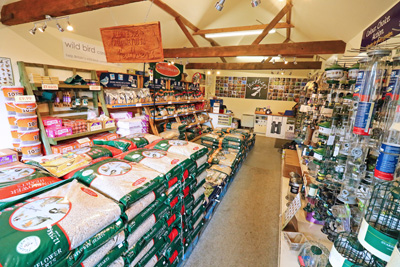 This shop is nothing less than a bird lovers paradise, designed and laid out to make selection of feed and feeders a pure pleasure. Stocking thousands of feeder combinations enables Allan & Joe to help you select the most beneficial feeder for your own personal requirements.
The nest box section has over 100 nest boxes on display, giving you the opportunity to inspect and enquire on any particular requirement you may need.
The bird food area is simply astonishing, a casual stroll round enables you to see and handle any of the vast array of the many different options offered, from 1kg bags to 12.75kg sacks; Feathers stock all your seed or peanut requirements.
The suet section is arranged for ease of choice, whether your birds' preference be suet cakes, fat balls or pellets the recommended feeders are close at hand. All the accessories are displayed adjoining the relevant feeders allowing all your options to be at arms reach.
Feathers

Nest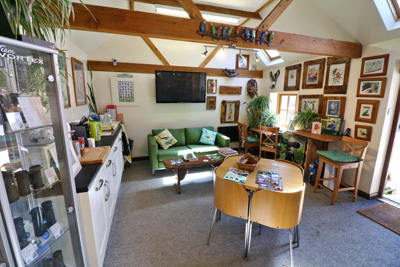 This wonderful bright, airy room offers Allan and Joe the chance to extend the warm, friendly ambiance that Feathers has become renowned for. Customers can now sit in comfort with a fresh coffee and relax while enjoying photos of the many birds that have visited the Nature Area. Also here you will find a choice of beautiful wooden bird carvings, these selected gifts will enhance your home or prove to be a very special present for a special friend. A further choice of super "birdy" gifts, ranging from identification books to a large selection of mugs, can be found dotted around the walls.
Feathers

Optics
Also in this extension is a much larger selection of quality binoculars from Hawke, Opticron, Swarovski Optik, Viking and Vortex. Buying your binoculars from Feathers enables you the opportunity to test and try them on site ensuring your purchase is right for you, with expert advice and offering great value a visit to Feathers for your new binoculars can be stress free and a treat. If you are unable to get to the shop then their Binocular Website has all you will need to know about everything optic.
The Nature Area, situated just outside the shop, is an ideal area to try out any of our large selection of optics.
The opening of Feathers gives Allan and Joe the opportunity to sell birdy products, both feed and feeders, that are right for our birds. All are tried and tested before they are offered. Feathers is a place for birds and those who admire and love them.
Come on in.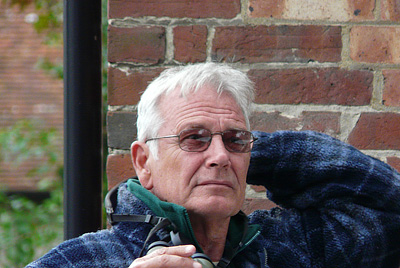 Feathers

Bird Talks with Allan and Joe

We have been giving talks on "Garden Birds" for many years. Now we are able to hold these talks in the shop extension we can offer other themes and subjects. We make them informative, interesting but above all fun. Our talks always include a period of "question time", which often leads on to interesting debates. We offer refreshments and superb raffles plus photo presentation with the opportunity to purchase a selection of food and feeders in the shop. An evening with Allan and Joe at Feathers is a joy for all wildlife enthusiasts.

For more information, please contact Allan or Joe HERE.
Customers' Comments
"I often bump into total strangers at Feathers, (although none are stranger than Allan, but that's a different story), and by the time we've finished our coffee and shopping they are no longer strangers but friends. Now I love all things birdy and going to get my supplies and a spot of bird-watching in the hide but the other really great thing about Feathers is the lovely band of people that it attracts, either in person or on line. I don't know how Allan and Joe did it but it's down to their hard work and general all-round-niceness that it just works. xx"
Peggy
---
"Joe & Allan always find time to chat and discuss birds and life in general. They make us feel welcome in their shop with offers of coffee, biscuits etc. Nothing is too much trouble and we always end up having a good laugh. There are very few shops you can visit where you have a laugh with the owners. Most aren't interested in their customers. To Allan & Joe, Feathers is not just a job, it's all about what they both love - birds! Thanks Joe & Allan, keep up the good work."
Kay
---
"There is no other place like Feathers! The guys are really nice. You get a nice cup of coffee with a biscuit and their prices are really good too. What is there not to like? When I was there today I met a couple of ladies. I only spent a few minutes with them, but I had a feeling like I have known them for ages. I don't think it would be the same if anybody else would run the shop and I think there are lots of people who are gonna agree with me. So, thanks guys for opening Feathers. We just love coming in!!!"
Iveta